You are here
Back to top
Between a Wok and a Dead Place (Paperback)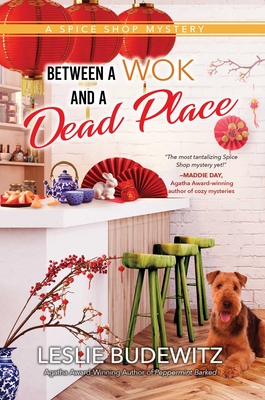 $17.95

Coming Soon - Available for Pre-Order Now
Description
---
It's the Lunar New Year, and fortunes are about to change.

Pepper Reece, owner of the Spice Shop in Seattle's Pike Place Market, loves a good festival, especially one serving up tasty treats. So what could be more fun than a food walk in the city's Chinatown–International District, celebrating the Year of the Rabbit?

But when her friend Roxanne stumbles across a man's body in the Gold Rush, a long-closed residential hotel, questions leap out. Who was he? What was he doing in the dust-encrusted herbal pharmacy in the hotel's basement? Why was the pharmacy closed up—and why are the owners so reluctant to talk?

With each new discovery, Pepper finds herself asking new questions and facing more brick walls.

Then questions arise about Roxanne and her relationship to Pepper's boyfriend Nate, away fishing in Alaska. Between her worries and her struggle to hire staff at the Spice Shop, Pepper has her hands and her heart full. Still, she can't resist the lure of the Gold Rush and its tangled history of secrets and lies stretching back nearly a century.

But the killer is on her tail, driven by hidden demons and desires. As Pepper begins to expose the long-concealed truth, a bigger question emerges: Can she uncover the secrets of the Gold Rush Hotel without being pushed from the wok into the fire?
About the Author
---
Leslie Budewitz blends her passion for food, great mysteries, and the Northwest in two cozy mystery series, the Spice Shop Mysteries, set in Seattle's Pike Place Market, and the Food Lovers' Village Mysteries, set in NW Montana. She also writes moody suspense under the pen name Alicia Beckman. Leslie is the winner of three Agatha Awards—2013 Best First Novel for DEATH AL DENTE, the first Food Lovers' Village mystery; 2011 Best Nonfiction, and 2018 Best Short Story, for "All God's Sparrows," her first historical fiction. A past president of Sisters in Crime and a former board member of Mystery Writers of America, she lives and cooks in NW Montana.
Praise For…
---
"Between a Wok and a Dead Place is an exciting mystery blended with great food, delicious spices, and fascinating details about the early Asian residents of Seattle, making this the perfect book for readers of all tastes, spicy or not. A fitting entry in one of the best cozy series being written today."
— Vicki Delany, bestselling author of the Tea by the Sea and Sherlock Holmes Bookshop mysteries

"Between a Wok and a Dead Place is the most tantalizing Spice Shop mystery yet!"
— Maddie Day, Agatha Award-winning author of historical and cozy mysteries

"In Between a Wok and a Dead Place, Leslie Budewitz serves a literary feast showcasing Seattle's Chinatown-International District—spiced with murder. A complex mystery peppered with delectable recipes, inspiring quotes, and fascinating factoids."
— Jennifer J. Chow, Agatha & Lefty Award-Nominated Author of Death By Bubble Tea

"Leslie Budewitz delivers the goods again in her latest captivating cozy, Between a Wok and a Dead Place. A twisty-turny plot, seasoned just right with plentiful suspects and lots of culinary delights, this is one page turner of a mystery no reader should miss!"
— Jenn McKinlay, New York Times Bestselling author