You are here
Back to top
The Truth of it All: A Novel (A Julia Geary Legal Thriller #1) (Hardcover)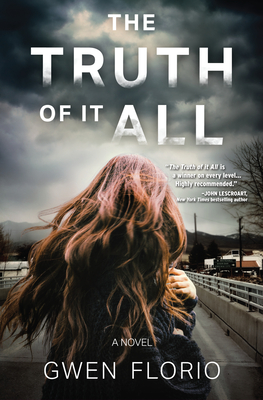 $32.75
Email or call for price.
Description
---
A hot-button legal case fuels a community's smoldering hostility--but the dark secret at its heart could set the town ablaze.

Public defender Julia Geary moves through life in simmering resentment--at her husband, a soldier killed in Iraq, leaving her a single mother; at her low-paying job; and at her overbearing mother-in law, whose home she shares. She longs for a breakout case, and it arrives when members of the high school soccer team report seeing a teammate--Iraqi refugee Sami Mohammed--assaulting a girl in the locker room.

In a town where animosity against refugees has already reached a fever pitch, Julia throws all her energy into Sami's defense. She finds an ally in high school principal Dom Parrish, who believes Sami is innocent, and the case suddenly turns red hot.

Then she begins receiving vicious threats against her family, and a senseless act of violence leaves Sami in a coma. And finally, a crop of new evidence emerges that points to the town's most prominent citizens and pits Julia against powerful forces set on burying the truth once and for all.

If Sami survives and Julia can prove him innocent, it will be the case of a lifetime. But now it's her life that's on the line.
About the Author
---
Longtime journalist Gwen Florio moved to fiction in 2013 with her first novel, MONTANA, which won the Pinckley Prize for Debut Crime Fiction and a High Plains Book Award. Four more novels followed in the Lola Wicks crime series, termed "gutsy" by the New York Times. SILENT HEARTS (Atria), a standalone novel set in Afghanistan, was published in 2018. BEST LAID PLANS (Severn House) was released in the United Kingdom in 2020 and United States in early 2021, and a new series (Crooked Lane) featuring a young public defender is set for publication in fall 2021. She lives in Missoula, Montana.
Praise For…
---
Praise for The Truth of it All:
"Florio invests her characters with humanity, along with touches of humility."
—Kirkus Reviews

"A great storyline"
—Manhattan Book Review

"A story that leaps from the page . . . [and] strong, true-to-life characters."
—Big Sky Journal

"Gwen Florio is the real deal, a terrific writer with a unique and powerful style of her own.  The Truth of it All is a winner on every level—hot button issues, moral dilemmas, believable characters, everything that makes a legal thriller work. Highly recommended."
—John Lescroart, New York Times bestselling author of the Dismas Hardy series

"A page-turner from the opening sentence. Public Defender Julia Geary is a character to root for in a red-hot case that strikes a town at its very core. I couldn't read fast enough."
―Robert Dugoni, New York Times bestselling author of the Tracy Crosswhite series

"Gripping, timely, thoughtful . . . and a damn good read."
—Michael Kaufman, author of The Last Exit

Praise for Gwen Florio:
"A first-rate writer."
 —Anne Hillerman, New York Times bestselling author  
 
"Gorgeous, illuminating, resonant, thrilling."
 —Kate Moretti, New York Times bestselling author of The Vanishing Year, on Silent Hearts
 
"Florio achieves what few others can in the field of crime fiction."
—J. J. Hensley, award-winning author of Resolve and Measure Twice
 
"Gwen Florio weaves a compelling tapestry."
—Craig Johnson, author of the Walt Longmire mysteries