You are here
Back to top
Own Your Thoughts, Own Your Life: A Revealing Guide to Clarify Your Thinking and Transform Your Life (Paperback)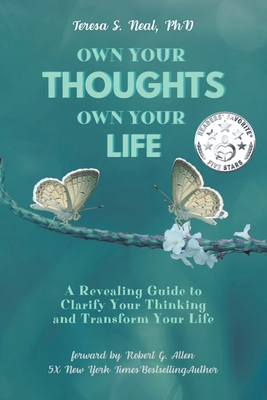 List Price: $20.95
Our Price: $12.57
(Save: $8.38 40%)
Usually Ships in 1-5 Days
Description
---
Too often situations pop up that turn our world upside down. We become overwhelmed and hate falling victim to our circumstances. We desperately want to take control of our lives. Unfortunately, the good life seems to keep floating just beyond our reach. What can we do to make our lives better? Is it possible for us to take control of our own lives?
After decades of training, research, and teaching, Dr. Neal has discovered a valuable path to better health and more joy-filled living. And the route is surprisingly simple. It's all about thoughts.
Through a series of thought exercises, explanations, and examples, Neal guides us to explore how thoughts are connected to body, mind, and spirit. We learn to become more consciously aware of our thoughts and how knowledge is obtained. We begin to realize who we really are and why we want to take responsibility for our choices.
Own Your Thoughts, Own Your Life is not just another self-discovery book about how to improve your attitude or overcome bad habits. Owning your own thoughts allows you to dig down into the root of the problem and guide you forward to healthier thinking and a better life.
Any generally curious person will find this book engaging. Dr. Neal inspires readers to continue to think long after they've closed the book. While the examples, exercises, and explanations are engaging, the ideas and perspectives that the book raises will stick with people for years afterwards and help them to live better lives.
Ben Beese
Former student of Dr. Neal, studying at Middlebury College
Most books on Mindset are fluff, mere pop psychology. Dr Neal has written an in-depth book of techniques and strategies to change your life. I guarantee that in this book you'll find plenty of cutting-edge information to alter your way of thinking.
Robert G. Allen
5X NY Times Bestselling Author