You are here
Back to top
Definitely Above Average: Stories & Comedy for You & Your Poor Old Parents (Abridged / CD-Audio)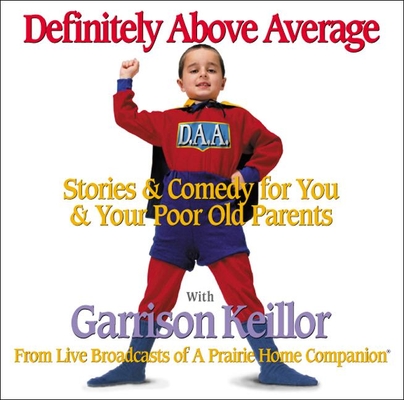 $24.95
Usually Ships in 1-5 Days
Description
---
From live broadcasts of A Prairie Home Companion.

After the birth of Garrison Keillor's daughter, the stories, songs, and sketches on A Prairie Home Companion took on a distinctly parental bent. This new collection gathers the warmest, funniest, most affectionate examples: dance tunes and comedy with sound effects; songs featuring Chet Atkins, Leo Kottke, Beaussoleil, and other guests; Ian Frazier's much-requested "Lamentations of the Father"; and Garrison's version of "The Princess and the Pea." Garrison says, "I test-played this album for my daughter, who is three, and she jumped around a lot."

Filled with stories, sketches, and songs recorded from live broadcasts, Definitely Above Average will delight parents and children everywhere.

Contents:

Oh Baby
Bananas
Children Go Where I Send Thee
The True Sad Story of Mr. Froggie
Baby Dance
Knock Knock Who's There
El Hambo
Hush Little Baby
The Baby Says Ha
Estrellita
Count Your Blessings
Brownie and Pete
The Horses Stood Around/Powdermilk Biscuit Theme
Tell My Ma
Happy One Step
Oh Susanna Fantasy
Wheels On the Bus
Songs That I Love Best
Baby Blues
Tell Me Why
The Chord That Jack Played
A Game of Chess
The Princess and the Pea
The Sound Effects Man Part One
The Snow Queen
The Sound Effects Man Part Two
About the Author
---
Garrison Keillor is America's favorite storyteller. For more than 35 years, as the host of A Prairie Home Companion, he has captivated millions of listeners with his weekly News from Lake Wobegon monologues. A Prairie Home Companion is heard on hundreds of public radio stations, as well as America One, the Armed Forces Networks, Sirius Satellite Radio, and via a live audio webcast. 
 
Keillor is also the author of several books and a frequent contributor to national publications including Time, The New Yorker, and National Geographic, in addition to writing his own syndicated column. He has been awarded a National Humanities Medal from the National Endowment of the Humanities. When not touring, he resides in St. Paul, Minnesota.