You are here
Back to top
Up the Trail: How Texas Cowboys Herded Longhorns and Became an American Icon (How Things Worked) (Paperback)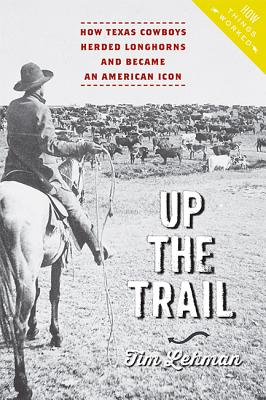 $22.00
Email or call for price.
Description
---
How did cattle drives come about--and why did the cowboy become an iconic American hero?
Cattle drives were the largest, longest, and ultimately the last of the great forced animal migrations in human history. Spilling out of Texas, they spread longhorns, cowboys, and the culture that roped the two together throughout the American West. In cities like Abilene, Dodge City, and Wichita, buyers paid off ranchers, ranchers paid off wranglers, and railroad lines took the cattle east to the packing plants of St. Louis and Chicago.
The cattle drives of our imagination are filled with colorful cowboys prodding and coaxing a line of bellowing animals along a dusty path through the wilderness. These sturdy cowhands always triumph over stampedes, swollen rivers, and bloodthirsty Indians to deliver their mighty-horned companions to market--but Tim Lehman's Up the Trail reveals that the gritty reality was vastly different. Far from being rugged individualists, the actual cow herders were itinerant laborers--a proletariat on horseback who connected cattle from the remote prairies of Texas with the nation's industrial slaughterhouses.
Lehman demystifies the cowboy life by describing the origins of the cattle drive and the extensive planning, complicated logistics, great skill, and good luck essential to getting the cows to market. He reveals how drives figured into the larger story of postwar economic development and traces the complex effects the cattle business had on the environment. He also explores how the premodern cowboy became a national hero who personified the manly virtues of rugged individualism and personal independence. Grounded in primary sources, this absorbing book takes advantage of recent scholarship on labor, race, gender, and the environment. The lively narrative will appeal to students of Texas and western history as well as anyone interested in cowboy culture.
About the Author
---
Tim Lehman is a professor of history at Rocky Mountain College. He is the author of Bloodshed at Little Bighorn: Sitting Bull, Custer, and the Destinies of Nations.