You are here
Back to top
Toward the Open Field: Poets on the Art of Poetry, 1800-1950 (Wesleyan Poetry) (Paperback)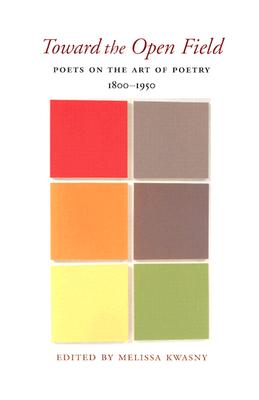 $44.93
Email or call for price.
Description
---
The historical writings that helped shape our current understandings of poetry.

Toward the Open Field brings together many of the great prose pieces--essays, letters, declarations, defenses, manifestos, and apologia--by the most influential European and American poets from the Romantics to the Symbolists, Surrealists, and Moderns. Hitherto uncollected and all in English, the work in this anthology follows the changing notions of what a poem is, what a poet is, and why we read a poem, tracing the development of stylistic and ideological strategies that have spawned our current, conflicting understandings of verse.

The book begins with Wordsworth's 1802 "Preface" to the Lyrical Ballads and proceeds through 150 years of English language tradition, including the European poetries which greatly influenced it. These prose works allow the reader to share one of the great extended conversations by poets about poetry during a dynamic period of literary experimentation.

Includes work by Charles Baudelaire, Andr Breton, Aim C saire, Samuel Taylor Coleridge, Emily Dickinson, T.S. Eliot, Ralph Waldo Emerson, Gerard Manley Hopkins, Langston Hughes, John Keats, Federico Garcia Lorca, Mina Loy, St phane Mallarm , Marianne Moore, Charles Olson, Ezra Pound, Arthur Rimbaud, Percy Bysshe Shelley, Gertrude Stein, Wallace Stevens, Paul Val ry, Walt Whitman, William Carlos Williams, William Wordsworth and Louis Zukofsky.
About the Author
---
MELISSA KWASNY is the author of four books of poetry, most recently The Nine Senses and Reading Novalis in Montana, as well as co-editor with M.L. Smoker of I Go to the Ruined Place: Contemporary Poems in Defense of Global Human Rights.