You are here
Back to top
The Scavenger's Guide to Haute Cuisine: How I Spent a Year in the American Wild to Re-create a Feast from the Classic Recipes of French Master Chef Auguste Escoffier (Paperback)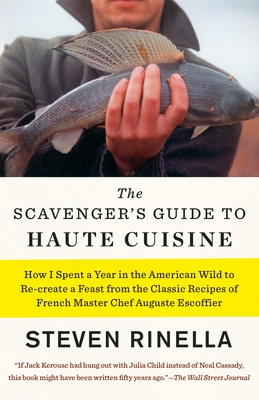 List Price: $18.00
Our Price: $10.80
(Save: $7.20 40%)
Usually Ships in 1-5 Days
Description
---
"If Jack Kerouac had hung out with Julia Child instead of Neal Cassady, this book might have been written fifty years ago."—The Wall Street Journal

When outdoorsman, avid hunter, and nature writer Steven Rinella stumbles upon Auguste Escoffier's 1903 milestone Le Guide Culinaire, he's inspired to assemble an unusual feast: a forty-five-course meal born entirely of Escoffier's esoteric wild game recipes. Over the course of one unforgettable year, he steadily procures his ingredients—fishing for stingrays in Florida, hunting mountain goats in Alaska, flying to Michigan to obtain a fifteen-pound snapping turtle—and encountering one colorful character after another. And as he introduces his vegetarian girlfriend to a huntsman's lifestyle, Rinella must also come to terms with the loss of his lifelong mentor—his father. An absorbing account of one man's relationship with family, friends, food, and the natural world, The Scavenger's Guide to Haute Cuisine is a rollicking tale of the American wild and its spoils.
About the Author
---
In addition to being an expert chef known for working with wild game, Steven Rinella is an outdoorsman, writer, and television and podcast personality with an exceptional ability to communicate the hunting lifestyle to a wide variety of audiences. The host of the television show and podcast MeatEater, he is also the author of two volumes of The Complete Guide to Hunting, Butchering, and Cooking Wild Game; Meat Eater: Adventures from the Life of an American Hunter; American Buffalo: In Search of a Lost Icon; and The Scavenger's Guide to Haute Cuisine. His writing has appeared in many publications, including Outside, Field & Stream, The New Yorker, Glamour, The New York Times, Men's Journal, Salon, O: The Oprah Magazine, Bowhunter, and the anthologies Best American Travel Writing and Best Food Writing.
Praise For…
---
"If Jack Kerouac had hung out with Julia Child instead of Neal Cassady, this book might have been written fifty years ago. . . . Steven Rinella brings bohemian flair and flashes of poetic sensibility to his picaresque tale of a man, a cookbook, and the culinary open road."—The Wall Street Journal
 
"If you rue the 'depersonalization of food production,' or you're tired of chemical ingredients, [Rinella] will make you howl."—Los Angeles Times
 
"A walk on the wild side of hunting and gathering, sure to repel a few professional food sissies but attract many more with its sheer in-your-face energy and fine storytelling."—Jim Harrison, author of Legends of the Fall
 
"[A] warped, wonderful memoir of cooking and eating . . . [Rinella] recounts these madcap wilderness adventures with delicious verve and charm."—Men's Journal