You are here
Back to top
The Waste Lands: (The Dark Tower #3)(Revised Edition) (Mass Market Paperbound)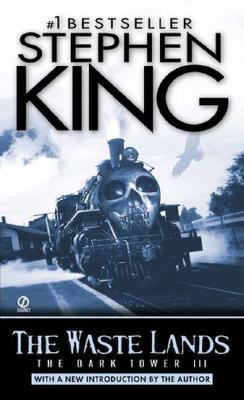 Description
---
The Third Volume in the Epic Dark Tower Series
The Waste Lands
In 1978, Stephen King introduced the world to the last gunslinger, Roland of Gilead. Nothing has been the same since. More than twenty years later, the quest for the Dark Tower continues to take readers on a wildly epic ride. Through parallel worlds and across time, Roland must brave desolate wastelands and endless deserts, drifting into the unimaginable and the familiar. A classic tale of colossal scope crossing over terrain from The Stand, The Eyes of the Dragon, Insomnia, The Talisman, Black House, Hearts in Atlantis, Salem's Lot, and other familiar King haunts the adventure takes hold with the turn of each page.
And the tower awaits....
Roland, The Last Gunslinger, moves ever closer to The Dark Tower of his dreams and nightmares as he crosses a desert of damnation in a macabre world that is a twisted image of our own. With him are those he has drawn to this world: street-smart Eddie Dean and courageous wheelchair-bound Susannah.
Ahead of him are mind-rending revelations about who and what is driving him. Against him is arrayed a swelling legion of foes both more and less than human....
About the Author
---
Stephen King lives in Maine and Florida with his wife, novelist Tabitha King. He has written more than forty books and two hundred short stories. He has won the World Fantasy Award, several Bram Stoker awards, and the O. Henry Award for his story The Man in the Black Suit, and is the 2003 recipient of The National Book Foundation Medal for Distinguished Contribution to American Letters. His Dark Tower books include: The Gunslinger, The Drawing of the Three, The Waste Lands, Wizard and Glass, The Wind Through the Keyhole, Wolves of the Calla, Song of Susannah, and The Dark Tower."