You are here
Back to top
Women and Puppetry: Critical and Historical Investigations (Paperback)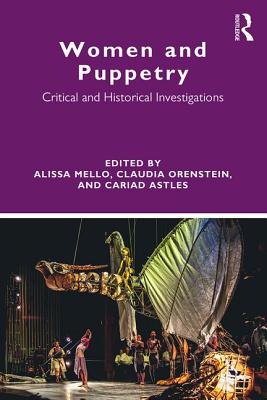 $75.07
Usually Ships in 1-5 Days
Description
---
Women and Puppetry is the first publication dedicated to the study of women in the field of puppetry arts. It includes critical articles and personal accounts that interrogate specific historical moments, cultural contexts, and notions of "woman" on and off stage.
Part I, "Critical Perspective," includes historical and contemporary analyses of women's roles in society, gender anxiety revealed through the unmarked puppet body, and sexual expression within oppressive social contexts. Part II, "Local Contexts: Challenges and Transformations," investigates work of female practitioners within specific cultural contexts to illuminate how women are intervening in traditionally male spaces. Each chapter in Part II offers brief accounts of specific social histories, barriers, and gender biases that women have faced, and the opportunities afforded female creative leaders to appropriate, revive, and transform performance traditions. And in Part III, "Women Practitioners Speak," contemporary artists reflect on their experiences as female practitioners within the art of puppet theatre.
Representing female writers and practitioners from across the globe, Women and Puppetry offers students and scholars a comprehensive interrogation of the challenges and opportunities that women face in this unique art form.
About the Author
---
Alissa Mello is an independent theatre artist and scholar, whose research interests include women and performance, as well as practice and social justice. Her publications include a chapter in Undisciplining Dance in 9 Movements and 8 Stumbles (2018), and articles in Performance Research, Puppetry International and PAJ: A Journal of Performance and Art. Claudia Orenstein is professor of theatre at Hunter College and the Graduate Center, CUNY. She has spent over a decade writing on puppetry, and her publications include The Routledge Companion to Puppetry and Material Performance (co-editor) and Festive Revolutions: The Politics of Popular Theatre and the San Francisco Mime Troupe. Cariad Astles is course leader for the BA in puppetry at the Royal Central School of Speech and Drama, and lecturer in Drama at Exeter University, UK. She specialises in training and directing for puppetry performance and in the use of puppets within healthcare. Her publications include International Puppetry Research: Tracing Past and Present, "Puppetry and dictatorship" in Performing (for) Survival: Theatre, Crisis and Extremity, and "Puppetry Training in Contemporary Live Theatre" in Theatre, Dance and Performance Training.