You are here
Back to top
Chike and the River (Paperback)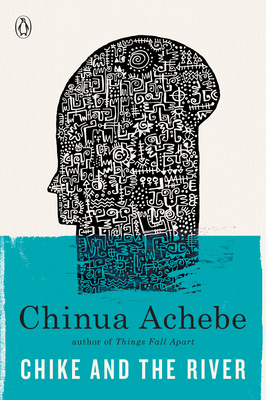 $16.38
Email or call for price.
Description
---
The more Chike saw the ferry-boats the more he wanted to make the trip to Asaba. But where would he get the money? He did not know. Still, he hoped.

Eleven-year-old Chike longs to cross the Niger River to the city of Asaba, but he doesn't have the sixpence he needs to pay for the ferry ride. With the help of his friend S.M.O.G., he embarks on a series of adventures to help him get there. Along the way, he is exposed to a range of new experiences that are both thrilling and terrifying, from eating his first skewer of suya under the shade of a mango tree, to visiting the village magician who promises to double the money in his pocket. Once he finally makes it across the river, Chike realizes that life on the other side is far different from his expectations, and he must find the courage within him to make it home.

Chike and the River is a magical tale of boundaries, bravery, and growth, by Chinua Achebe, one of the world's most beloved and admired storytellers.
About the Author
---
Chinua Achebe (1930–2013) was born in Nigeria. Widely considered to be the father of modern African literature, he is best known for his masterful African Trilogy, consisting of Things Fall Apart, Arrow of God, and No Longer at Ease. The trilogy tells the story of a single Nigerian community over three generations from first colonial contact to urban migration and the breakdown of traditional cultures. He is also the author of Anthills of the Savannah, A Man of the People, Girls at War and Other Stories, Home and Exile, Hopes and Impediments, Collected Poems, The Education of a British-Protected Child, Chike and the River, and There Was a Country. He was the David and Marianna Fisher University Professor and Professor of Africana Studies at Brown University and, for more than fifteen years, was the Charles P. Stevenson Jr. Professor of Languages and Literature at Bard College. Achebe was the recipient of the Nigerian National Merit Award, Nigeria's highest award for intellectual achievement. In 2007, Achebe was awarded the Man Booker International Prize for lifetime achievement. 


Praise For…
---
Praise for Chinua Achebe
 
"A magical writer—one of the greatest of the twentieth century." —Margaret Atwood
 
"African literature is incomplete and unthinkable without the works of Chinua Achebe." —Toni Morrison                                                                                                                                                                                                                        
 
"Chinua Achebe is gloriously gifted with the magic of an ebullient, generous, great talent." —Nadine Gordimer
 
"Achebe's influence should go on and on . . . teaching and reminding that all humankind is one." —The Nation
 
"The father of African literature in the English language and undoubtedly one of the most important writers of the second half of the twentieth century." —Caryl Phillips, The Observer
 
"We are indebted to Achebe for reminding us that art has social and moral dimension—a truth often obscured." —Chicago Tribune
 
"He is one of the few writers of our time who has touched us with a code of values that will never be ironic." —Michael Ondaatje
 
"For so many readers around the world, it is Chinua Achebe who opened up the magic casements of African fiction." —Kwame Anthony Appiah
 
"[Achebe] is one of world literature's great humane voices." —Times Literary Supplement
 
"Achebe is one of the most distinguished artists to emerge from the West African cultural renaissance of the post-war world." —The Sunday Times (London)
 
"[Achebe is] a powerful voice for cultural decolonization." —The Village Voice
 
"Chinua Achebe has shown that a mind that observes clearly but feels deeply enough to afford laughter may be more wise than all the politicians and journalists." —Time
 
"The power and majesty of Chinua Achebe's work has, literally, opened the world to generations of readers. He is an ambassador of art, and a profound recorder of the human condition." —Michael Dorris