You are here
Back to top
Our Beloved Kin: A New History of King Philip's War (The Henry Roe Cloud Series on American Indians and Modernity) (Paperback)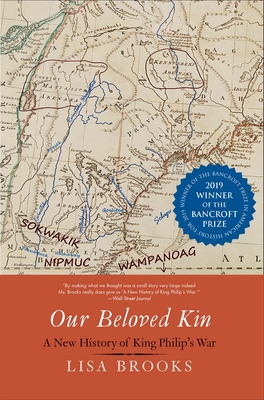 $22.00
Usually Ships in 1-5 Days
Description
---
A compelling and original recovery of Native American resistance and adaptation to colonial America
 
With rigorous original scholarship and creative narration, Lisa Brooks recovers a complex picture of war, captivity, and Native resistance during the "First Indian War" (later named King Philip's War) by relaying the stories of Weetamoo, a female Wampanoag leader, and James Printer, a Nipmuc scholar, whose stories converge in the captivity of Mary Rowlandson. Through both a narrow focus on Weetamoo, Printer, and their network of relations, and a far broader scope that includes vast Indigenous geographies, Brooks leads us to a new understanding of the history of colonial New England and of American origins. Brooks's pathbreaking scholarship is grounded not just in extensive archival research but also in the land and communities of Native New England, reading the actions of actors during the seventeenth century alongside an analysis of the landscape and interpretations informed by tribal history.
About the Author
---
Lisa Brooks is professor of English and American studies at Amherst College. She is the author of The Common Pot: The Recovery of Native Space in the Northeast.
Praise For…
---
"By making what we thought was a small story very large indeed—Ms. Brooks really does give us 'A New History of King Philip's War.'"—The Wall Street Journal
"Brooks's project provides a wealth of information for both scholars and lay readers interested in Native American history."—Publishers Weekly
"This well-written and engrossing title is an essential read for anyone interested in U.S. history."—Library Journal, starred review
"A re-examination . . . incorporating previously underread accounts from native sources adjacent to the war."—Connecticut Magazine
"Commanding, meticulously researched, and elegantly readable."—Maine Sunday Telegram
"The disappearance of indigenous voices and interlocutors during the war produced a problem for historians. . . . In Our Beloved Kin: A New History of King Philip's War, Lisa Brooks sets out to change this. She effectively reverses a one-sided view of what has long been considered the most devastating war in American history. . . . In so doing, she gives a new account of an event even as she generates a new way of narrating history." —Sarah Rivett, American Literary History
Winner of one of the 2019 Bancroft Prizes in American History and Diplomacy, sponsored by Columbia University 
 Winner of the 2019 New England Society in the City of New York Book Awards, Historical Nonfiction category
Listed as one of the "must read " titles in the 19th annual non-fiction category for the Mass Center for the Book Awards.
Winner of the 2019 John C. Ewers Book Award for best book on North American Indian Ethnohistory, sponsored by the Western History Association
Winner of the 2019 Donald L. Fixico Award for best book on American Indian and Canadian First Nations History, sponsored by the Western History Association 
"Brilliant, meticulously researched, a scholarly tour de force, I could not put Our Beloved Kin down!"—LeAnne Howe, Choctaw, author of Shell Shaker
"Our Beloved Kin is a major intellectual feat. With brilliant narration and storytelling, Brooks engages in a critical remapping that centers Indigenous sovereignty and kinship with conceptual rigor, methodological innovation, and important historical interventions"—J. Kēhaulani Kauanui, author of Hawaiian Blood: Colonialism and the Politics of Sovereignty and Indigeneity
"In this mesmerizing and methodologically bold reassessment of King Philip's War, Lisa Brooks brings to life the gendered resistance to colonialism in Indigenous place-worlds through the language and landscape of kinship."—Jean M. O'Brien, author of Firsting and Lasting: Writing Indians Out of Existence in New England
"There have been many books about King Philip's War but none like this. Our Beloved Kin is insightful and a better way to understand New England's past."—Colin G. Calloway, author of The Indian World of George Washington
"Lisa Brooks brilliantly guides us through the "place-worlds" of Weetamoo and James Printer to create a stunningly original account of King Philip's War. The Native viewpoint changes everything we thought we knew."—Mary Beth Norton, author of In the Devil's Snare: The Salem Witchcraft Crisis of 1692