You are here
Back to top
A Case of Bier: A Bed-and-Breakfast Mystery (Bed-and-Breakfast Mysteries #31) (Mass Market)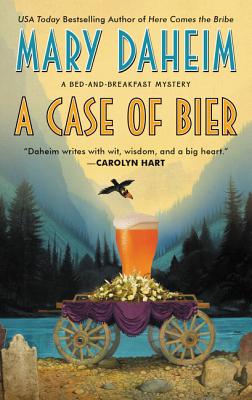 $7.99
Coming Soon - Available for Pre-Order Now
Description
---
In the latest installment in the New York Times and USA Today bestselling Bed-and-Breakfast series, Judith McMonigle Flynn's vacation goes awry when her fellow guests have a different kind of getaway planned . . .
After a busy summer, Judith McMonigle Flynn—owner of Seattle's popular Hillside Manor B&B—needs some R&R. Her husband, Joe, surprises her with a trip to Banff in the Canadian Rockies.
Judith's overjoyed that Cousin Renie and Bill are joining them. But while making reservations, Joe and Bill made one tiny mistake. Instead of a gorgeous suite in a hotel modeled after a Scottish castle, they're staying at a small motel farther down the road. Though their accommodations leave something to be desired, the on-site guests are the real prize. Ma and Pa Stokes and their family members have gathered on the mountainside to give a relative a permanent send-off—a nice gesture, until Judith realizes that paying their respects might be a little premature . . . without some sinister assistance. Old man Codger's final wish is for his remains to be sent off down the Bow River. Yet the old coot isn't quite dead—yet.
Now it's up to Judith and Renie to determine who arranged to send a would-be corpse on an early date with the undertaker.
About the Author
---
Mary Richardson Daheim is a Seattle native with a communications degree from the University of Washington. Realizing at an early age that getting published in books with real covers might elude her for years, she worked on daily newspapers and in public relations to help avoid her creditors. She lives in her hometown in a century-old house not unlike Hillside Manor, except for the body count. Daheim is also the author of the Alpine mystery series, the mother of three daughters, and has three grandchildren.