You are here
Back to top
The Home Place: A Novel (Paperback)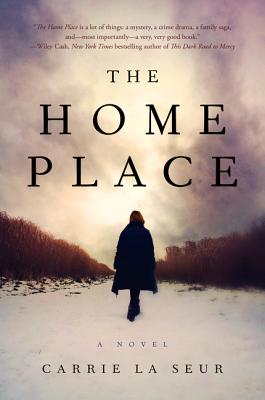 $14.99
Email or call for price.
August 2014 Indie Next List
---
"Alma Terrebonne, a rising star in a Seattle law firm, has left behind her complicated family and past tragedies in Billings, Montana, until one morning when a call for help pulls her back. Returning to identify her sister, dead apparently from exposure, and to care for her 11-year-old niece, Alma is overcome by guilt, fragile family relations, powerful memories from the past, and the hold the family homestead has over her. Both a tense, page-turning police procedural and a delightful romance with carefully drawn characters, The Home Place will resonate with the reader long after the book is finished."
— Darwin Ellis, Books on the Common, Ridgefield, CT
Description
---
Carrie La Seur makes her remarkable debut with The Home Place, a mesmerizing, emotionally evocative, and atmospheric literary novel in the vein of The House Girl and A Land More Kind Than Home, in which a successful lawyer is pulled back into her troubled family's life in rural Montana in the wake of her sister's death.
The only Terrebonne who made it out, Alma thought she was done with Montana, with its bleak winters and stifling ways. But an unexpected call from the local police takes the successful lawyer back to her provincial hometown and pulls her into the family trouble she thought she'd left far behind: Her lying, party-loving sister, Vicky, is dead. Alma is told that a very drunk Vicky had wandered away from a party and died of exposure after a night in the brutal cold. But when Alma returns home to bury Vicky and see to her orphaned niece, she discovers that the death may not have been an accident.
The Home Place is a story of secrets that will not lie still, human bonds that will not break, and crippling memories that will not be silenced. It is a story of rural towns and runaways, of tensions corporate and racial, of childhood trauma and adolescent betrayal, and of the guilt that even forgiveness cannot ease. Most of all, this is a story of the place we carry in us always: home.
About the Author
---
Carrie practices energy and environmental law on behalf of farmers, ranchers, and Native Americans, and does a little writing, from an office in Billings, Montana. Her ancestors homesteaded in Montana in 1864 and survived every sort of calamity and absurdity, so the publishing industry seems pretty tame to her by comparison.
Carrie's improbable but apparently nonfiction résumé includes a degree in English and French from Bryn Mawr College, a Rhodes Scholarship, a doctorate in modern languages from Oxford University, and a Yale law degree. She has always been a writer. "The writing comes easily," she says. "It's what I'm always doing in the background, whatever else is going on. It's like my resting pulse rate to be scribbling what's happening in my head. If I didn't, I'd be wandering the streets talking to myself. Sometimes I do that anyway."
In 2006, Carrie founded the legal nonprofit Plains Justice, which provides public interest energy and environmental legal services in the northern plains states. Carrie and Plains Justice have played a key role in halting several new coal plants, enacting clean energy reforms, and launching the Keystone XL pipeline campaign. "I'm still involved in Plains Justice, but I went back to private practice in 2012. Running a nonprofit takes a unique blend of selflessness and enough raging narcissism to think you really can change the world. The burnout rate is similar to that of telemarketers."
A licensed private pilot and committed introvert, Carrie hikes, skis, and fishes the Montana wilderness with her family in her spare time. Her work has appeared in such diverse media as Grist, Harvard Law and Policy Review, The Huffington Post, Mother Jones, and Salon.
Praise For…
---
"The Home Place is one of the year's strongest debuts." — Lisa Ko, author of The Leavers
"A love story of the land and its people...captivating." — Charleston Post & Courier
"Walloping in suspense, drama, rage, and remorse, this debut is an accomplished literary novel of the new West." — Library Journal
"La Seur makes a very assured debut. Her characters are rich and believable; the plot is perfectly paced with mystery and romance enough to keep the reader hooked. And it's all played against a beautifully drawn Montana backdrop." — Booklist
"La Seur entices readers with impeccable prose imbued with a blend of romance, nostalgia and suspense." — Kirkus Reviews
"Powerfully evocative and page-turning." — Rosamund Lupton, New York Times-bestselling author of SISTER and AFTERWARDS
"Carrie La Seur's debut is a gripping story of family, love and murder. Set against an indelibly drawn Montana landscape, The Home Place explores the intangible ways we are both defined by and in opposition to the people and places we call home." — Tara Conklin, New York Times-bestselling author of The House Girl
"It is always a treat when a talented writer chooses to write about her home, particularly when she does so with authority, clarity and imagination...The Home Place gives readers a stunning but frank look at what it means to be from Billings, Montana." — BookPage